REGISTRATION NOW OPEN!
July 1st to 8th, 2023
World Championships & Training Conference in Luxembourg!
---
ENGLISH =  TOURNAMENT   |   SEMINARS   |   ACCOMODATIONS    |    BANQUET    |    REGISTRATION
ITALIAN =  TOURNAMENT   |   SEMINARS   |   ACCOMODATIONS    |    BANQUET    |    REGISTRATION
---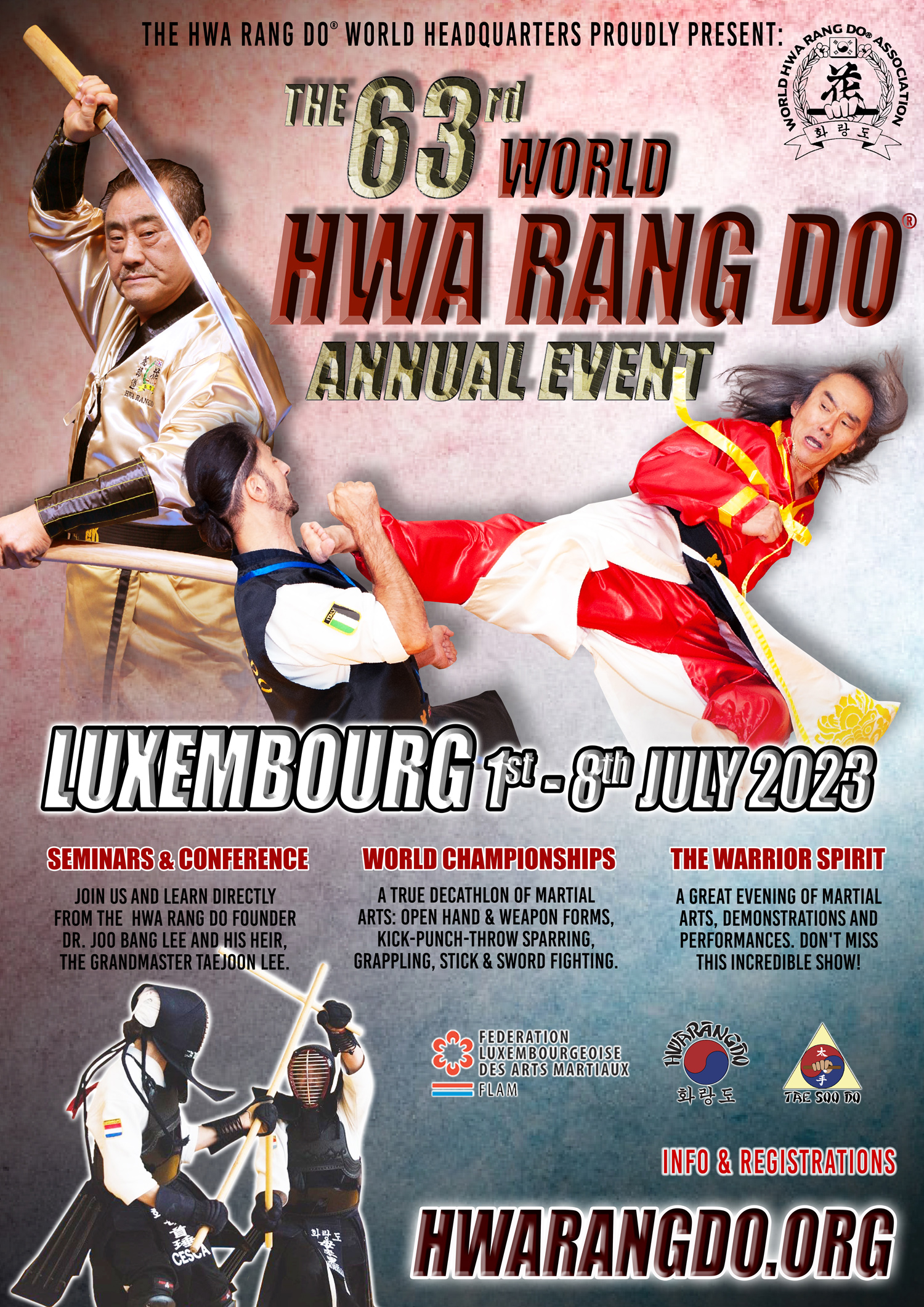 ---
ENGLISH =  TOURNAMENT   |   SEMINARS   |   ACCOMODATIONS    |    BANQUET    |    REGISTRATION
ITALIAN =  TOURNAMENT   |   SEMINARS   |   ACCOMODATIONS    |    BANQUET    |    REGISTRATION
---
CLICK THE ABOVE LINKS FOR INFO ABOUT EACH SUMMER EVENT!
The traditional annual gathering of Hwa Rang Do® students, instructors, and masters is finally returning after the COVID era lockdowns & restrictions. Prior to the recent times, the WHRDA hosted 20+ years of consecutive annual summer events that allowed participants to train directly with our head Grandmasters.  The week long training conference is a precious opportunity to learn directly from the source of our art, Founder Dr. Joo Bang Lee and his eldest son & heir Grandmaster Taejoon Lee. 
There are 14 different Seminar Sessions on all aspects of Hwa Rang Do® as well as 3 Sessions for our core Tae Soo Do® and Hwa Rang Do® Curriculum for all ranks and ages. There is always something for everyone - kick/punch striking, grappling/submissions, weapon fighting, plus high level details related to belt level curriculum. Training from dawn to dusk everyday for a week is certainly an eye opening experience, especially when you are joined with other students and instructors from around the globe.
Of course the other big highlight of the event is the World Championships tournament!  There will be event divisions for all ages; Little Tigers, Juniors, and Adults in all Belt Ranks. Facing the challenges of competitors from across the globe will certainly test your skills and help you achieve greater potentials. Class training and practice is our ongoing grind of personal development, however, the spark of competition propels people to much greater heights as you are forged by the pressure of the competitive experience. Face your fears and develop courage as you step into the ring with your fellow HRD/TSD brothers and sisters to test your true warrior spirit! The Hwa Rang Do® World Championships is a true decathlon of the martial arts - Open Hand Forms, Weapon Forms, Kick-Punch-Throw Sparring, Grappling, 4 Divisions of Stick & Sword Fighting, Demonstrations, and Team Fighting.
Along with all of the amazing training and competition, the true essence and purpose is to cultivate, nurture, and enrich our familial bonds with our fellow Hwa Rang Do® / Tae Soo Do® brothers and sisters, sharing truth in the battlefield and tales of our courageous deeds as we forge ahead in our collective path, our life journey together as Hwarang! Also, don't miss the group dinners throughout the week where you can break bread and share spirits with your HRD/TSD brothers and sisters as well as your Instructors, Kusanim, and Dojoonim. The action packed week will culminate to the formal Awards Banquet & Black Sash Ceremony celebrating all the great achievements of our Hwarang Warriors, dancing the night away!
Please make sure to get your passport (WHRDA Annual Legacy Membership) renewed and save the dates for July 1st to 8th 2023.
See you in Luxembourg this summer!
Additional Info: