"Live by the Sword"
A Podcast by Hwa Rang Do® Grandmaster Taejoon Lee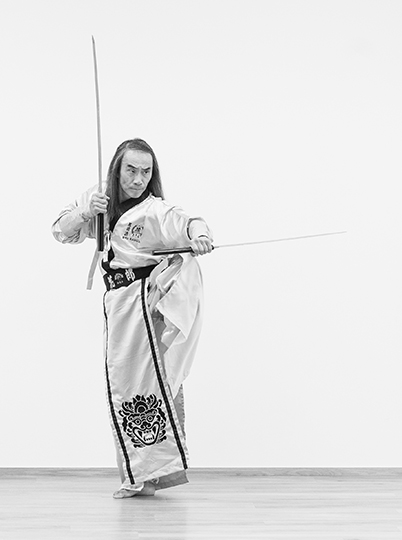 I have been asked by many students to publicly share my teachings through a podcast or in a book format. And so, I have finally decided to launch an official podcast starting this month of October 2021 and I also have made plans for a future book.
When I first made the commitment to do this, I immediately thought of my old student, Fernando Ceballos. He is one of my most loyal students, whom we have formed much history together in our over 20-year relationship. He is currently the Chief Marketing Officer of Elite Marketing Pro / Attraction Marketing and the co-founder and host of the annual "No Excuses Summit" held each year in Las Vegas, which made him the perfect candidate to host and MC the podcast. Not only that, but he is also a critical thinker and we have enjoyed many "good conversations" in the past.
The next step was to come up with the name for the podcast, which would prove to be more challenging than anticipated. It took quite some time to come up with the appropriate name, which was not already taken, but it also had to define the meaning and purpose for the podcast. Through this podcast my aim is to share with the world my unique experience as the heir to the Hwarang Legacy and how a "Hwarang", living in the modern world as a "Flowering Knight", abiding to its code of ethics and philosophies, and how such a person perceives the world and its current events. By doing so, I wish to share the true meaning and power of Hwa Rang Do to transform and empower lives to appreciate the God-given gift of life, knowing that each and every person, however low or high, rich or poor, strong or weak, has purpose and is loved by their Creator.
We have tried countless names and finally after much reflection and debate, we have agreed on "Live by the Sword." The full proverb is "live by the sword, die by the sword." It is derived from the words of Christ when he says to one of his disciples who cuts an ear off of one of the persons who came to arrest him, "Put up again thy sword into his place: for all they that take the sword shall perish with the sword." It is to say that what goes around, comes around and those who live by violence will die by violence. However, it can also stand for justice as for those who use the sword for violence and evil in an unlawful way is subject to execution by the sword.
For our purposes, as Hwarang Warriors who no longer battle, but live as civilians in peace and harmony with others we must understand what it means to "live by the sword" not in the literal sense, but in the figurative interpretation. We will examine how to live with the understanding that we have no control over our deaths and that we may die at any time, hence we must live each day as it is our last. And, in order to live fully, we must be unafraid to die. To be mindful of all that we do and live in the moment. As we learn and train ourselves in the martial way to most efficiently use our bodies as a weapon, as though sharpening a blade we must ensure that we live a path of moral rectitude following our creed and honoring God so that we do not use our knowledge for evil, but for the betterment of humankind.
It is with this goal that we launch our Podcast to share with everyone our perception of the world as Hwarangdoists and share my personal insights from my unique upbringing being born into the Hwarang Legacy as the bearer and heir to Hwa Rang Do®. Please join us in "Live by the Sword" Podcast.
Hwarang forever and God Bless
News Release Date:
Monday, October 11, 2021 - 2:16pm
Location:
Hwa Rang Do World Headquarters